Welcome!
Savage-Goodner Camp 1513 of the Sons of Confederate Veterans is a non-profit organization chartered in October of 1989 and is dedicated to preserving the memory and heritage of the Confederacy and our Confederate ancestors through memorial, historical, and educational activities.
Based in Smithville, Tennessee, we are an active camp having completed several projects including the placement of military markers on the graves of Confederate soldiers, historical roadside markers for the Battle of Snow Hill and for the Wheeler School in Alexandria, the donation of several books and microfilm records to local libraries, a Confederate monument at the DeKalb County Courthouse, and a monument to General John Hunt Morgan in Alexandria. We have also published a book on the history of DeKalb County along with designing the DeKalb County flag, which is based on the Confederate first national flag.
The Sons of Confederate Veterans is the direct heir of the United Confederate Veterans, and the oldest hereditary organization for male descendants of Confederate soldiers. Organized at Richmond, Virginia in 1896, the SCV continues to serve as a historical, patriotic, and non-political organization dedicated to ensuring that a true history of the 1861-1865 period is preserved.
We, the Sons of Confederate Veterans, having been commissioned by the Confederate Veterans themselves, retain our responsibility and right to adhere to the founding principles of the United States of America remembering the bravery, defending the honor and protecting the memory of our beloved Confederate Veterans, which includes their memorials, images, symbols, monuments and grave sites for ourselves and future generations.
Membership in the Sons of Confederate Veterans is open to all male descendants of any veteran who served honorably in the Confederate armed forces. For information on joining the Savage-Goodner Camp, please contact us at . An application for membership may be completed and printed by clicking here.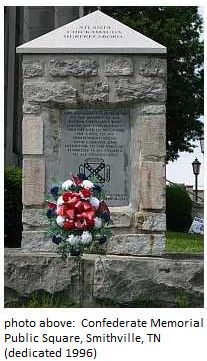 Facebook Preview (may take a moment to load on slower connections, please be patient)
Forrest's Farewell Address
Civil war, such as you have just passed through naturally engenders feelings of animosity, hatred, and revenge. It is our duty to divest ourselves of all such feelings; and as far as it is in our power to do so, to cultivate friendly feelings towards those with whom we have so long contended, and heretofore so widely, but honestly, differed. Neighborhood feuds, personal animosities, and private differences should be blotted out; and, when you return home, a manly, straightforward course of conduct will secure the respect of your enemies. Whatever your responsibilities may be to Government, to society, or to individuals meet them like men.

Lieutenant General Nathan Bedford Forrest - May 9, 1865