Reenacting
Why participate in reenacting? A love of history, a desire to better understand what War Between the States era soldiers and civilians experienced, the pleasure of camping with friends and cooking over an open fire all explain why reenactors follow this hobby. Reenacting is a wonderful way to educate the public on the life of soldiers and civilians during the War Between the States. Memorial services and dedications would not be the same without reenactors. Our members have been active in the following groups.
Huwald's Battery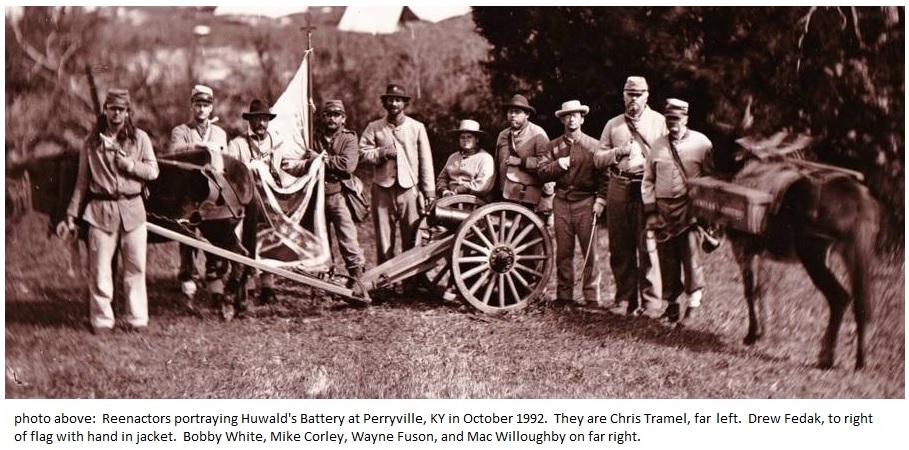 Huwald's Tennessee Howitzer Battery reenacting group was a mobile artillery battery that utilizes horse and mule power to pull two period accurate mountain howitzers. The original Huwald's Battery was formed in Knoxville, Tennessee in 1862 by Capt. Gustav Huwald and served with Gen. Edmond Kirby Smith's Army of East Tennessee. They fought in several battles including Munfordville and Richmond, Kentucky, as well as Chickamauga and Ringold, Georgia. At the battles for Atlanta, Capt. Huwald was captured, but the unit would continue to the end of the war, when they finally surrendered with Gen. Joe Johnston's Army of Tennessee in North Carolina. This group recently disbanded.
Ward's 9th Tennessee Cavlary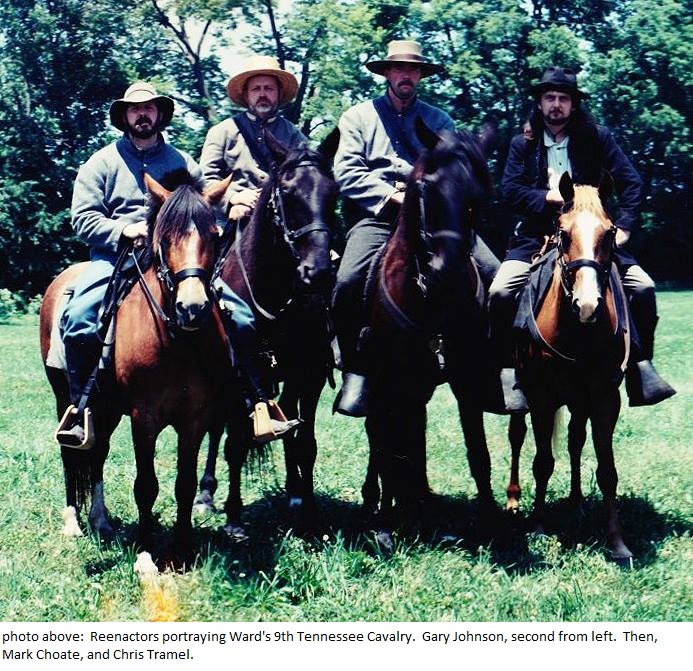 Ward's 9th Tennessee Cavalry, Company C is a mounted western theater cavalry group that style themselves after General John Hunt Morgan's men. The original 9th Regiment was organized Sept. 1, 1862 by Colonel James D. Bennett and Lt. Colonel William W. Ward. On Nov. 24th of that year they were sent to Colonel John Hunt Morgan and participated in the Battle of Hartsville, Tennessee. On December 22nd, they left Alexandria, Tennessee on Morgan's Christmas Raid. In 1863, they were reported to have been with General Nathan Bedford Forrest on his recapture of Brentwood and embarked on Morgan's famous Ohio Raid where most of the force were captured.
A report dated Aug. 31st stated that a fragment of Morgan's division had escaped capture through West Virginia and had walked all the way to Georgia. This company, led by Captain J.D. Kirkpatrick of Co. C, was reassigned to General Nathan Bedford Forrest and fought at the Battle of Chickamauga. They continued with Forrest until May 1864 where they rejoined General Morgan and proceeded with the Last Raid into Kentucky. On Sept. 4th they were surprised at Greenville, Tennessee which led to Morgan's death. The majority of the force surrendered in May of 1865, but a few continued service as President Jefferson Davis's escort until his capture on May 10th near Macon, Georgia.